It's pretty incredible: Thanks to the internet and the rise of ecommerce opportunities, you can sell products all over the world… even if your entire business consists of just YOU! 
That's right, it's truly easier than EVER to get started in online selling!
One reason for this is the availability of powerful all-in-one ecommerce solutions like BigCommerce and Shopify. For a fairly low monthly subscription, these platforms will host your store, offer payment processing, and connect you with other companies to find and sell products via methods like dropshipping, print on demand, and more.
So, if you're thinking about starting your own online business and you need an ecommerce solution, let's look at the two biggest options in this space: BigCommerce vs Shopify. Yes, there are others, such as Magento, but BigCommerce and Shopify are simply the two best values out there for an entrepreneur or small business.
In this post, I'll explain how these two all-in-one ecommerce giants compare and which might be the better choice for you and your business!
Get your FREE Shopify Trial Here
OR
Try BigCommerce FREE for 15 Days
Get your FREE BigCommerce Trial Here
---
What Is an All-in-One Ecommerce Solution?
First of all, we need to look at how these ecommerce platforms work. 
I'm sure you understand what ecommerce is as a concept – selling physical or digital products to online shoppers – but the thing to keep in mind about BigCommerce and Shopify is that they are all-in-one stores.
Essentially, these services are designed to include everything you need to build your online ecommerce presence in just a single platform. I'm talking about hosting, a store builder, integrations with third party apps and marketplaces, payment processing, and even point of sale transactions… The list goes on and on!
This approach is similar to the way ClickFunnels works as an all-in-one solution for sales funnels and landing pages, but for an online store model instead. 
Now, if you already have an existing website going, some of these features may feel redundant, such as hosting or the platform's CMS functionality. You might consider some great non-turnkey options like a WordPress site with WooCommerce and Thrive Themes that give you more control, but a solution like this definitely requires more time and expertise to do right. 
There's one more caveat here, which is that you don't truly own your store with BigCommerce or Shopify. It's only active while you're paying for it. Also, if something goes wrong, you're pretty dependent on the ecommerce service you've chosen – and while I don't think either of these behemoths is going out of business anytime soon, it's still something worth thinking about.
On the other hand, if you're just starting out or you want to build a new ecommerce brand, the all-in-one store is SUPER handy – for just one monthly payment, BigCommerce and Shopify both have all the infrastructure you need to build your store and start selling products online!
Ready to dive in and see what these stores can do? 
What is BigCommerce?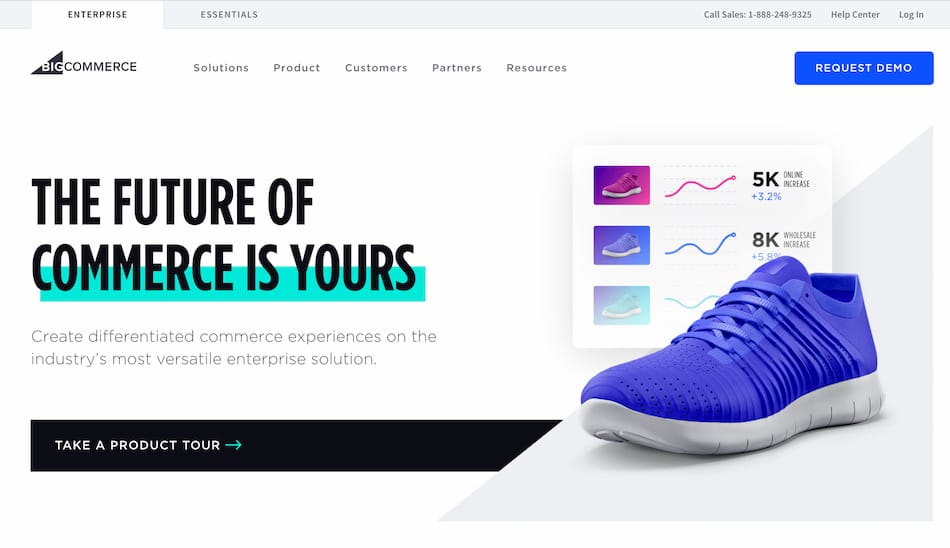 To start with, let's take a look at BigCommerce!
BigCommerce was started in 2009, and it services customers in more than 150 countries across the world. It's a software as a service (SaaS) hosted ecommerce solution, which means you pay monthly to set up a store and sell your products online via BigCommerce's platform.
As big as the company is, BigCommerce powers around 100,000 stores. Another great point in favor of BigCommerce is that it's trusted by some BIG ecommerce brands, such as Payless, Gibson, Toyota, and Martha Stewart!
Right off the bat, I'd say that BigCommerce feels like it's built for a more technical, experienced audience. If you already have experience building websites or landing pages, you'll feel at home with BigCommerce.
Overall, BigCommerce's biggest claim to fame is the fact that it packs an incredible number of features into its plans built-in, without additional hassle or expense associated with third-party apps. If that's something you'd appreciate, you should definitely look into BigCommerce for your online store!
Get your 15-Day Trial of any BigCommerce plan for FREE!
Try BigCommerce FREE for 15 Days
What is Shopify?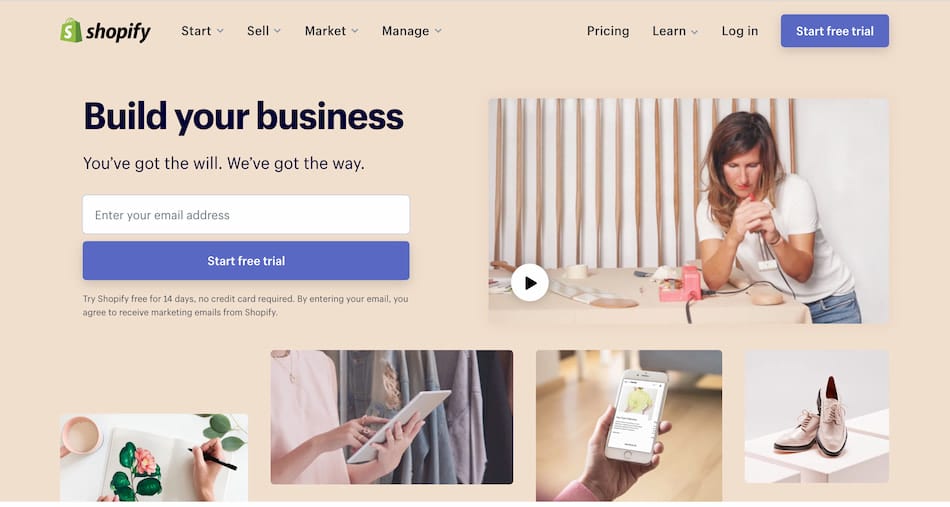 Shopify is probably the most well-known all-in-one ecommerce platform out there. It's also one of the oldest, having started back in 2004 – and one of the biggest, powering more than 800,000 stores online as of this writing.
Shopify streamlines the process of building a store and provides a wealth of educational resources to help you get started quickly. 
Through its basic, regular, or advanced plans, Shopify lets you create an entire online store on its hosted platform. Alternatively, you can opt for the most basic plan, Shopify Lite, which lets you embed your products to your website on WordPress, Wix, Squarespace, etc. or to a social media page like Facebook.
Shopify extends its feature set with a host of third-party apps and customizable themes, so you can pick and choose which ones you need. In the end, Shopify is a very user-friendly experience and has all the features you could possibly need to build your ideal online store!
Try a 14 Day Free Trial with Shopify Right Here!
BigCommerce vs Shopify: A Quick Overview
With BigCommerce and Shopify, you're looking at two of the biggest players in ecommerce. One thing you're going to realize quickly is that there's a lot of overlap between the two of them.
So, how do you even begin to compare these two services, when they clearly are so similar?
One way is with a handy comparison chart! Allow me:
| | | |
| --- | --- | --- |
| Features | BigCommerce | Shopify |
| Lite Plan Option | No | Yes, $9/mo |
| Buy Button for Other Sites | Yes | Yes |
| Unlimited Products | Yes | Yes |
| Unlimited Staff Accounts | Yes for all plans | No |
| Transaction Fees | No | Yes, if you use an external payment gateway |
| Professional Reporting | Yes, for all plans | Yes, but only on higher plans |
| 24/7 Support | Yes, for all plans | Yes, for all plans |
| Annual Sales Limits | Yes | No |
| Gift Cards | Yes, for all plans | Yes, but only on higher plans |
| Annual Plan Discount | 10%, only on higher plans | 10% (20% for two years) |
| Free Trial | Yes, 15 days – Try BigCommerce FREE! | Yes, 14 days – Try Shopify for FREE! |
This should give you a good overview, but I also want to point out a few specific takeaways for you to consider: BigCommerce includes a lot of the functionality of Shopify-in without having to install extra apps to fill in the gaps.
Also, unlike Shopify, BigCommerce doesn't charge additional transaction fees for any processing provider. Lastly, BigCommerce includes gift cards and unlimited staff accounts for every one of its plans, while Shopify has restrictions on these features in its basic plan.
However, Shopify has its own perks: it lets you buy a very simple version of its service for just $9/mo, Shopify Lite, if you want to sell without having a full online store – BigCommerce's plans start at $29.95/mo.
Another essential Shopify feature is abandoned cart recovery, which is included for EVERY Shopify plan, but isn't found in BigCommerce's basic plan. Shopify has no sales limit on its plans, while BigCommerce has an annual sales limit for all but its enterprise offering.
These differences start to fade if you're willing to spring for one of the higher plans on either platform, but the basic versions of BigCommerce vs Shopify each have a pretty distinct feature set.
Ready to learn more? Let's dig into how you actually use the two tools to see if one of them is a better fit for you how work. 
Using BigCommerce
Getting started with BigCommerce is pretty easy!
First, you'll need to sign up. Get your 15-Day Trial of any BigCommerce plan for FREE!
Try BigCommerce FREE for 15 Days

Next, you'll fill out a few questions, including giving your store a name… and then you're in!
As you look at your BigCommerce page, you'll notice that it has a customizable dashboard with sections for store performance, store statistics, spotlight, and store orders. It's truly great to have these numbers available at a glance without having to poke around deep in the settings.
But before you can dig into the numbers, you'll have to set some things up so that the sales start coming. There are a few options on how to get started, including BigCommerce's simple step-by-step setup for preparing to accept orders:
Add Products
Get set to ship
Accepting Payments
Set up your tax rates
These are all important steps, though you'll also need to think about the branding for your store, your domain, and your sales channels.
If you look at the left side of the page, you'll see the BigCommerce sidebar. Here's where you'll find pretty much everything!
There's a lot of flexibility here, allowing you to look at orders, add or change your products, customize your storefront, dig into your analytics, and manage your different sales channels.
As for your storefront, you can see how the initial store looks right off the bat, before you do any customization or swap out your theme.
Not bad, right?
But at the same time, the default theme – Cornerstone Light – is totally generic. We should probably try to make some quick changes.
When you hit "edit theme," all you have to do is go to the sidebar to see your options.
There, you're able to click any of the main options and go through the pop-up to enter new text, change font or styles, and check different boxes to adjust your settings. It's really easy to do – possibly even a little faster than it is with Shopify.
Okay, but what if we aren't feeling the default theme? Well, it's pretty easy to find a totally new theme! We just head to the BigCommerce Theme Store!
Unfortunately, I counted just twelve free themes in this store – the rest of them are premium, and the best premium themes cost up to $250! This is a one-time cost, but it's definitely a pretty expensive upfront investment.
Once you're happy with your theme, the next thing you'll want to do is decide on the products you're going to feature in your store.
When it comes to adding products, you can create your own with a name, SKU, product type, price, brand, weight, category, description, image/video, plus custom fields. The formatting and responsiveness are pretty much automatic from there.
And that's BigCommerce!
Obviously, this was just a quick and dirty look at the BigCommerce tool, but hopefully it gives you a sense of how the software works and how things are organized. Pretty much everything you need will be accessible right from the sidebar!
Using Shopify
If you read through the section on how to get started with BigCommerce, I think you'll find that Shopify is remarkably similar.
Just like with BigCommerce, you sign up and enter your information to establish your account. Don't forget to get your FREE 14-Day trial of Shopify here!
Try Shopify FREE for 14 Days

Once you've named your store, you're good to go! Similar to BigCommerce, there's a sidebar on the left side of the screen in Shopify with pretty much every feature you'll ever need.
Notice that your online store and the rest of your sales channels are easily accessible as a separate spot on the sidebar from the rest of the menu options. I think it's a convenient UX choice.
Ignoring the online store for a moment, Shopify has all of the settings you need right in the sidebar, including your orders, products, customers, analytics, marketing, discounts, and third party apps you can install. Remember that what you get access to in these options will depend on the level of plan you've selected.
Now, let's check out our online store! You'll see that it's sporting Shopify's default theme called Debut.
Unlike with BigCommerce, Debut doesn't come with placeholder images, and it's about as basic as you can imagine. Personally, I think BigCommerce's starting theme is a bit stronger – but hopefully you aren't planning to stick with the default theme in either case!
Shopify is known for a HUGE selection of custom themes, both free and premium, that you can pick from. You should be able to create the store you're looking for with Shopify, with premium theme prices topping out at $180 as of this writing.
I also like how easy it is to navigate Shopify's theme store, choosing by price, the size of your catalog, the layout style you want, and other great filters.
Once you've picked your theme, customizing it is the same process as what you'd do with a more traditional WordPress theme. There's a toolbar on the left where you can add sections, move them around, and edit them.
Adding products is similarly straightforward, as you'll enter your data field by field. Shopify also makes it easy to find third-party apps where you can import products – when you do this, it auto-populates these fields for you.
And that's a quick look at Shopify!
There's clearly much more to Shopify than what I've covered here, but that should have at least given you a starting point for how it works and compares to BigCommerce.
SEO for BigCommerce vs Shopify
With your online store up and running, your work is just beginning! Your next monumental task is going to be getting lots of traffic to your storefront.
Fortunately, both BigCommerce and Shopify have plenty of tools and features to help make SEO a snap. 
One thing they allow you to do is include specific keywords on your page in the fields for your products. You'll want to make sure these keywords appear in at least four specific places:
Your page titles
Your meta descriptions
Your image alt tags
Your page's body content
This isn't anything new if you've been involved in blogging or content before, but it's essential that you take the time to research your keywords and properly optimize every single page and listing on your online store.
Don't forget that even a product page should have a decent amount of copy – 250 words is a good minimum rule of thumb.
Beyond that, you should seriously consider creating blog content for your online store. Shopify and BigCommerce feature built-in content management systems (CMSs) that you can use to post content for ranking in search and attracting organic traffic. Each post should be at least 500 words and ideally focus on buyer-intent keywords.
Lastly, don't forget that you can expand the functionality of your online store with third-party apps. For example, below are six SEO apps that you can add to your BigCommerce account.
These can help you with keyword research, add analytics to your dashboard, diagnose SEO issues, and speed up your overall workflow if you have a lot of product pages to edit. Ultimately, both platforms provide plenty of options for you to stay on top of your SEO.
BigCommerce vs Shopify Pricing
Pricing between BigCommerce vs Shopify is pretty comparable, minus the Lite option for Shopify. 
In both cases, you are granted additional features as you move up to higher plans. Conversely, both solutions leave out some pretty fundamental features on their basic plans: Gift cards and professional reporting are missing for Shopify Basic, and abandoned cart recovery isn't there for BigCommerce Standard.
With that said, here's an overview of the pricing for each store and what you get at each level.
BigCommerce Pricing
BigCommerce offers four month-to-month pricing plans. The first three are part of its "Essentials," while Enterprise is a totally separate plan targeting larger businesses.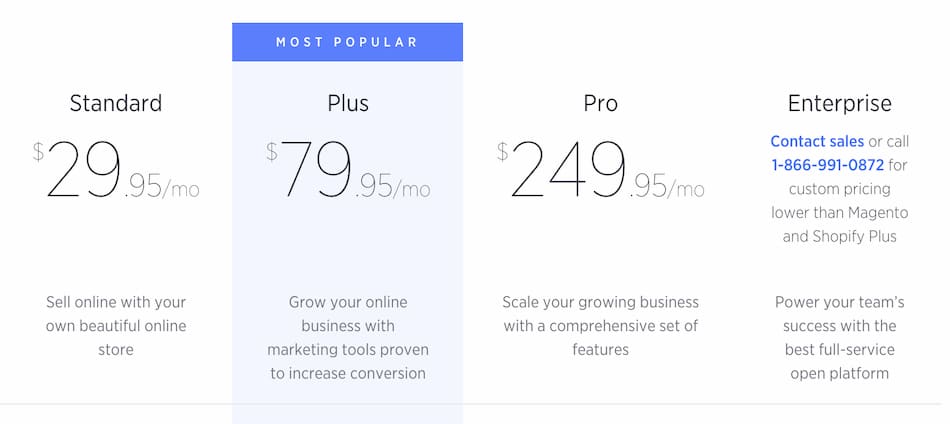 BigCommerce Standard: $29.95/mo
BigCommerce Plus: $79.95/mo
BigCommerce Pro: $249.95/mo
BigCommerce Enterprise: Custom pricing
All four plans include your own branded online store and access to a range of additional sales channels, including eBay, Amazon, Facebook, Pinterest, and Google Shopping.
The big upgrade for the higher plans is customer groups and segmentation, the abandoned cart saver, stored credit cards, and faceted search (product filtering) for your customers. You also get a big bump in your annual sales limits with each upgrade, from $50K to $150K to $400K for the three Essentials plans.
You should also keep in mind that you're eligible for a 10% discount by paying upfront for an annual plan. However, this only applies to the Plus and Pro plans. With this optional discount, Plus comes out to $71.95/mo, while Pro comes out to $224.95/mo. It's a pretty decent discount if you have the cashflow to pay for a full year upfront!
The enterprise level is more than most of us will need, but if you're at that level, BigCommerce does allow you to request a demo, and its pricing is competitive with Magento and Shopify Plus.
Get your 15-Day Trial of any BigCommerce plan for FREE!
Try BigCommerce FREE for 15 Days
Shopify Pricing
Shopify offers five total plans, including one called "Lite" that doesn't include a full online store, but lets you add a "Buy Button" to your existing website.
Shopify Lite: $9/mo
Basic Shopify: $29/mo
Shopify: $79/mo
Advanced Shopify: $299/mo
Shopify Plus: Custom pricing
The big features you gain access to with higher Shopify plans include gift cards, professional reports, advanced reporting features, and bigger discounts on transactions and shipping fees. You also get more staff accounts, from two with the Basic plan, to 5 with the regular plan, to 15 with Advanced Shopify.
Shopify also offers a 10% discount for you if you pay a year ahead or a 20% discount if you're willing to pay for two years right now. These discounts apply to any of the plans you choose.
Like with BigCommerce, you probably won't need the enterprise solution from Shopify, but it does offer some great features for customizing your store to meet your business's needs.
Grab a 14-Day Trial of Shopify for FREE!
Pros and Cons of BigCommerce
So, now that you know the features and the pricing of BigCommerce, it might be helpful to have a quick breakdown of the pros and cons for this ecommerce store option. 
Pros
More features included without added expense of third-party apps
Great education resources, including knowledge base and community
Google Shopping integration is a highlight
Quality 24/7 support with assigned "consultant"
Unlimited storage, staff accounts, and products
No transaction fees
Intuitive store builder
Cons
Lacks the equivalent of a "Lite" option
Fewer third-party app options compared to Shopify
Annual revenue limits can be constricting
High switching cost
Why You Should Choose BigCommerce
If you want a more fully-featured basic plan right out of the box, or you prefer the BigCommerce interface, then I could see BigCommerce being the better choice.
From gift cards to professional reporting, BigCommerce does have a LOT of great features included in its cheapest plan. A lot of the features come standard in BigCommerce that would require apps in Shopify, without any additional expense. I just wish BigCommerce Standard included abandoned cart recovery!
BigCommerce is also definitely an attractive option if you're looking at doing a lot of volume in your transactions. In fact, because of the savings on transactions compared to Shopify, if you happen to sell low-priced items at a higher volume, BigCommerce is definitely the better way to go!
Pros and Cons of Shopify 
Pros
Versatile and user-friendly dashboard
Lite option lets you sell on your existing website for just $9/mo
Tons of expandability and customization via apps and professional themes
A slightly faster site speed than BigCommerce
Great point of sale and multi-channel sales support
Comprehensive blog and video education
Excellent customer support
Cons
There are transaction fees if you don't stick with Shopify Payments
No native integration with MailChimp at this time
Gift cards and professional reporting only in higher plans
Difficult to switch templates
Why You Should Choose Shopify
Shopify is more well-known than BigCommerce, so you're more likely to find people and resources out there to help you when you get stuck.
Yes, both ecommerce solutions offer 24/7 support, but Shopify also has more comprehensive educational resources (although BigCommerce's are quite good as well). Shopify also has more third-party apps and distinctive themes for additional customization options, though you'll want to consider these additional costs when comparing Shopify's price to BigCommerce's.
I would also argue that the abandoned cart recovery feature is TOO important to go without, so if you're only willing to go for a basic plan, Shopify might make the most sense for you. Also, if you just need an ecommerce solution that can help you sell on your existing website, Shopify is the only choice that offers a "lite" plan for just $9/mo.
Lastly, there aren't any sales amount limits for your Shopify store at any level, which is actually a pretty big deal. Making more sales should be a good thing, not a cause for concern about having to upgrade to a higher subscription level!
Migrating Between Ecommerce Stores
Are you worried about making the wrong choice here?
Don't be!
Yes, it can be a bit of a pain to migrate your store from one platform to the other, but it is doable. You shouldn't fret if you decide to switch later on, because you're not locked into a specific brand or plan once you've built your store – though you may have to redo some work to get the store where you want it after switching to a new platform. 
For example, when you first fire up BigCommerce, one of the things you'll see is a box at the top of the page for transferring your Shopify Catalog with the Shopify Catalog Transfer app. BigCommerce knows that a lot of its customers are coming straight from Shopify, so the company is motivated to make migration as simple as possible.
As for Shopify, the platform comes with an Import store app and a simple process for transferring your BigCommerce store into Shopify. Basically, you'll export the store data from BigCommerce via CSV, import that data into Shopify, and then update it as needed.
Again, you may have to manually add some products or customers if the import isn't seamless between stores, but it's not too big of a deal!
BigCommerce vs Shopify Wrap-up
So, what do you think? Have you decided which option is right for you?
The good news is, I honestly don't think you can go wrong here. Both are highly-rated and fully-featured platforms, and the pricing on each of the three main plans is virtually identical for BigCommerce vs Shopify.
It's Time to Start Selling!
Rather than spend too much time fretting about BigCommerce vs Shopify in your business, I hope this post has helped you make a decision so you can start building your store today.
Best of luck on your ecommerce venture! That's all I have for you in this comparison between BigCommerce and Shopify. Try one of them for FREE today!
Try BigCommerce FREE for 15 Days
OR
Now I want to hear from YOU! Have you had success with BigCommerce? What about Shopify? Let us know in the comments!