Picking a WordPress page builder is both the most AND least consequential thing you'll ever do for your content website.
What do I mean?
Well, it obviously matters how you choose to build your website pages – no one would argue with that! The page builder is the structure and foundation for your site's content, page speed, mobile responsiveness, and visual layout.
On the other hand, if you're trying to make money from your website, you REALLY shouldn't be dwelling on which WordPress page builder to use for very long! There are so many other tasks that you need to be thinking about, so don't let this simple decision hold you up from tackling everything else that has to get done.
That's why I'm glad you're reading this post on Elementor vs Divi, because that means you've narrowed down your search to two of the most intuitive and versatile WordPress page builders on the market. Trust me, you'll be very happy with either one.
So, let's not dilly-dally! The sooner you pick between Elementor vs Divi for your niche site, the sooner you can start making even bigger strides in your business!
---
What is a Page Builder?
Briefly, I want to touch on what a visual page builder actually is.
Unlike the traditional WordPress workflow – where you're editing content in the backend and previewing it to see what the final page will look like – a visual page builder gives you a live preview of what your webpage or post will look like while you work. 
This isn't such a big deal if your site doesn't have a major emphasis on visuals – such as straightforward blog content – but it's invaluable for a design-heavy workflow. Page builders allow you to visualize a page in real time – and if you've wireframed your website in something like Adobe XD, you can actively compare the website you're building to the mockup you've created without flipping back and forth all the time.
Behind the scenes, the page builder is generating code for you. If you're a purist and want the most efficient code for your site, a page builder definitely isn't the way to do it – but for most of us, the tradeoffs we get with an intuitive page builder are worth it.
After all, would you rather build a 10 page site in a week using a page builder, or take six months to do it the cleanest way possible by hand? (And that's assuming you know how to code!)
With a content-driven niche website, you may be able to get away with just using WordPress's built-in page builder, Gutenberg. If you're determined to use a lightweight block editor and not deal with any external plugins or themes, Gutenberg might work for you.
But for an affiliate or small business website with an emphasis on professional design and layout, a third-party page builder is pretty much essential.
What is Elementor?
Elementor is a popular visual page builder in WordPress that has rocketed to success in just a few years.
It's important to note that Elementor is only a WordPress plugin, not a theme. This is something to be aware of if you're thinking about building a new site from scratch, because it means you still need to consider which theme you'd use with it for your WordPress site. 
Since Elementor is a plugin, it can work with virtually any theme, but I would encourage you to focus on finding a theme that's lightweight. 
Why?
Because you don't want the combination of your theme and the Elementor page builder plugin to bog down your website!
Here at Niche Pursuits, we highly recommend Astra Theme, which also has a free version and is built specifically to work with page builders. Astra includes 50 pre-built websites based on Elementor that you can tap into. GeneratePress is another solid option.
However, there are certainly countless other free and paid themes that should play nicely with Elementor page builder. One of the best things about Elementor is how versatile it is – and these days, Elementor is so popular that it's bound to be compatible with virtually anything you need it to work with. If you want to learn more about Elementor, check out our full Elementor review.
Interested in taking it for a spin now? Try Elementor for free! 
Give Elementor a test drive – it's free!
What is Divi?
The flagship product from Elegant Themes, Divi is both a page builder and a full-fledged theme with the same name. In a crowded marketplace of premium WordPress themes, Divi has stood out for years.
Unlike Elementor, you can just install the Divi theme and go – its page builder is included. Divi also comes with a few extra goodies that are nice to have, including an optin form plugin and a bonus theme.
But even if you just want the Divi page builder by itself, you'll to pay for an Elegant Themes yearly subscription or buy a lifetime license to access it. 
Once you're in the Divi members area, you can choose to install the full Divi theme on your WordPress website, opt for just the Divi page builder as a separate WordPress plugin, or go with their bonus magazine theme called Extra (which also includes the Divi builder).
One huge benefit of Divi is the fact that your paid membership allows you to use the Divi theme and page builder plugin on multiple websites. So, if you're actively building several different content sites, the paid version of Divi is a fantastic value! To learn more about Divi, feel free to check out our full Divi review!
Or if you're ready to give it a try, sign up for Divi right here – 30 day money back guaranteed!
Elementor vs Divi: A Quick Overview
Before I do a deep dive into how each page builder works, I want to start with a general summary of Elementor and Divi so you can see all of their similarities and differences.
Also, considering there's a free version of Elementor and a full Divi package, I want to narrow the scope of this discussion to have a fair and direct Elementor vs Divi comparison. That's why I'm going to focus specifically on how the Divi page builder stacks up to the Elementor Pro builder. 
Here's a quick look at some of the main features of Divi and Elementor. 
| | | |
| --- | --- | --- |
|   | DIVI | ELEMENTOR |
| Free Version? | No, but includes 30-day money back guarantee | Yes |
| Pricing | Paid version starts at $89 | Paid version starts at $49 |
| Multi-Site Use | Yes | Yes, but only with higher-level plans |
| Visual Builder | Yes | Yes |
| Inline Editing  | Yes | Yes |
| Easy to Use | Yes | Yes, but with a slight learning curve |
| Prebuilt Layouts | Yes, 1000+ | Yes, 150+ |
|   | Try Divi | Try Elementor |
User Interface
Right off the bat, one of the biggest differences between the two front-end page builders is the user interface.
Both are essentially drag-and-drop, what-you-see-is-what-you-get (WYSIWYG) builders, but Divi's elements are found and edited exactly where they appear on the front end. You just click the plus sign to activate a floating popup box and go from there. In Elementor, you get a fixed sidebar to edit your page's contents, and you drag the elements from the sidebar to your page.
These two workflows aren't all that different in practice, but I'd give a slight edge to Divi in terms of ease of use. They're close enough that you may have to try them out to see which you like better.
The good news is, both builders allow you to build your own pages without ever needing to code anything. Elementor and Divi have a wealth of content elements and styling options built in, making it a snap to build professional-looking pages. 
Premade Layouts and Templates
I've always found premade layouts and templates that you can customize to be incredibly valuable, because I'm at least starting out with a professional design. (If I mess it up from there, then that's on me!)
If you're an experienced designer, this may not be a huge selling point, but for non-designers, layout packs and templates can get you anywhere from 50 to 90% of the way done with your web design work just by clicking on the one you want!
Divi comes with 140+ layout packs that total more than 1,000 separate layouts you can use for your website. These premade layouts include quality photos and professional designs that you're free to use or adjust as needed.
Elementor features 150+ professional page layouts that you can tap into, and it also features blocks that you can insert onto existing pages. There are a ton of different blocks to choose from, including Headers, Price, Testimonials, FAQs, Footers, and more. Best of all, you can customize and save your own Blocks for use on future pages.
Both Divi and Elementor give you a fantastic selection of premade assets to work with, speeding up your workflow that much more!
How to Use Elementor Page Builder
An Elementor vs Divi comparison wouldn't be complete without diving into the page builders themselves. Let's start with a look at Elementor.
To start creating a page in Elementor, you'll add a new post or page like normal, then click the button that says "Edit in Elementor." 
Assuming this is a brand-new page, you'll see a blank screen divided into a few areas:
Sidebar. Location of widgets to use on your page. This is also where you edit layout, styles, and other properties for your elements.
Main page. Widget area where you can drag the elements from the sidebar to build your page. This is what your final page actually looks like.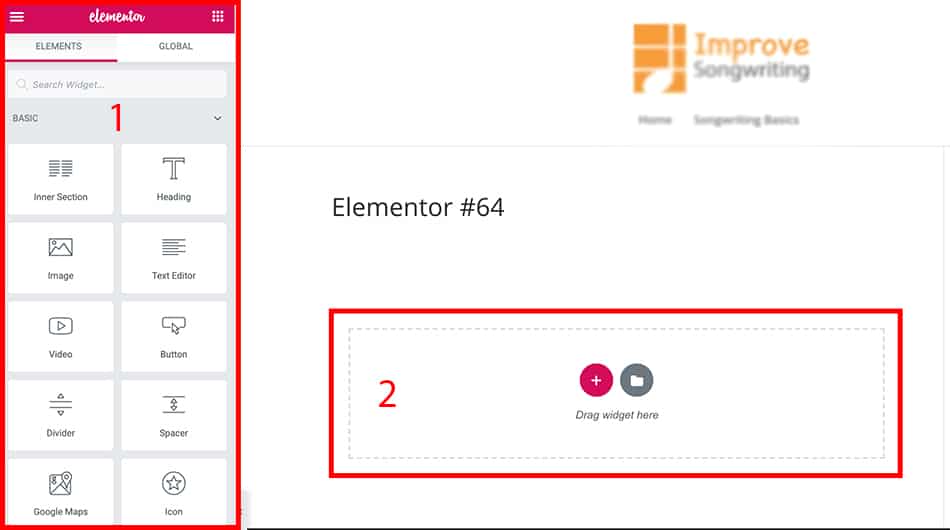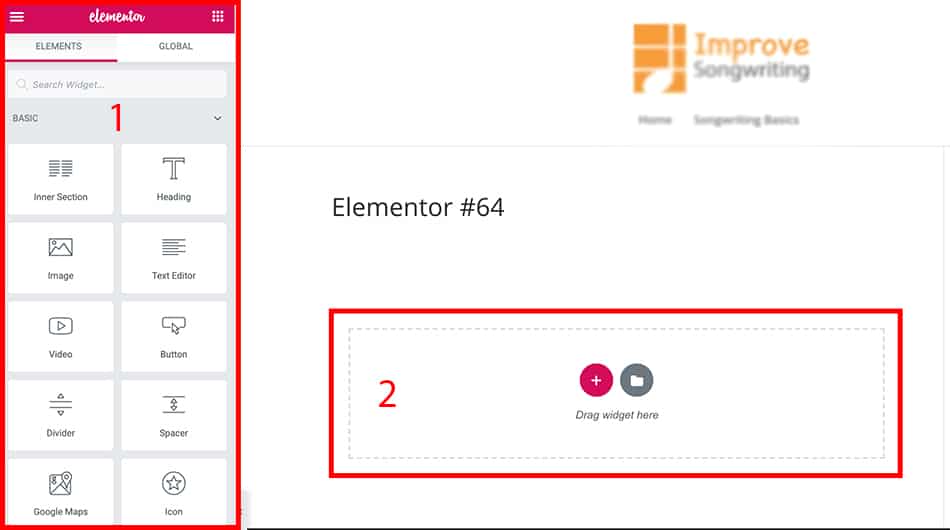 We also need to get acquainted with the three types of elements you're using to build your page:
Sections. Large groups that serve as a container for columns and widgets.
Columns. Medium groupings placed in sections. They can be resized dynamically and contain widgets.
Widgets. Small design elements where the actual content of a page goes. These include text, buttons, headings, dividers, images, etc.
What does this look like in practice? Basically, you can hit the + button to create a new section, which can be divided up into a number of columns.
When you select your structure, you're picking the number of columns and how they divide up your page vertically.
Each column can contain an element, but it confines the element to take only the amount of space your columns do – so a text box dragged into the full-width column would go across your whole page, while a text box placed in the middle column of the five-column structure would only fit into that narrow sliver on the page.
It's also really simple to add or take away columns as needed, and you can move blocks around by just dragging them.
For a great overview of the process of working with the Elementor page builder, check out this quick video Brady made that was featured in our full Elementor review.
Elementor Widgets
The best way to understand what Elementor can do is to dig into the different widgets that Elementor's free version comes with. The basic widgets include things like gallery, accordion, shortcode, image, text, testimonial, and icon list.
Elementor Pro adds a number of premium options as well, such as the portfolio, countdown, blockquote, Facebook embed, and flip box.
There's also theme elements, which I go into detail on a bit later. These are dynamic elements, which is a super cool feature!
And if all of these aren't enough, and you feel like something is still missing that you need? Good news – there are plenty of potential free and paid third-party add-ons you can find for use in your Elementor plugin!
Elementor Templates
One of the biggest perks of Elementor is the inclusion of templates for posts and pages. Think of a template like one of those online forms with all of the information already pre-populated – you can easily edit or add information if you need to, but most of the work is already done!
This is cool because it lets you breeze through the creation of your website and keeps important page layouts consistent from page to page.
What's more, there are literally hundreds of templates in Elementor Pro that you can use as the basis for your own. This includes both block and page templates – blocks are basically pre-made sections of a page, while page templates are an entire prebuilt page. 
Elementor Theme Builder
The Theme Builder is a powerful Elementor feature that's only available in the paid version. 
But what exactly is a "theme builder?"
Think of the fact that a website has certain common elements from page to page, such as the header, the footer, or the sidebar. But what if you ever need to change some of these elements across the whole site? 
By using "theme elements," which are essentially dynamic widgets, you can create content that's changeable on the fly. One example of a theme element in Elementor is the "Site Logo," which should appear consistently across the site, right?
But rather than using a static image element, the dynamic Site Logo element can be placed wherever you want it to be – and then, if you do a rebrand and create a new logo, every instance of the Site Logo is updated everywhere. 
There are also display conditions that allow you to change which types of elements appear on a new page. This helps you create a hierarchy for elements. The Theme Builder – paired with the page builder – gives you a ridiculous amount of flexibility in how you approach your website.
Give Elementor a try today for FREE!
How to Use Divi Page Builder
Now that we've seen what Elementor page builder is like, here's what it's like to work with the Divi builder.
With Divi installed on your WordPress website, add a new page or post and click "Use Divi Builder" to get started.
Here's the page you'll see right off the bat.
This screen lets you quickly decide whether you're building a new page from scratch, starting with an existing layout (including professional options that come with Divi or a custom layout you've saved), or cloning an existing page as the starting point for your new one.
If we build one from scratch, here's what we see.
To understand what we should do next to start building our page, we need to cover the way Divi organizes its elements:
Sections. Largest group that serves as a container for rows and modules.
Rows. Rows are groups found inside sections that divide your page vertically. They include pre-built layouts.
Modules. Smallest design elements for the page content, including text, buttons, headings, dividers, images, etc. 
If this sounds familiar, it's pretty analogous to Elementor's sections, columns, and widgets. (This isn't a completely random approach, by the way – it's similar to how actual webpages are structured with HTML, as content is organized in broad sections, divs, and individual tags.)
Like with Elementor, we can pick a structure for the first section on our blank page. I'll pick the one with the 1/2 and 1/2 rows at the top. 
Now, it prompts us to insert a module. Let's do something more interesting than just a text element with this one… how about a button?
When I click the button module, the dialog box pops up. I can fill in the details for my button – including loading or saving a design – and then hit the checkmark to add this button to my page.
You can also easily resize or drag the pop-up box around, which is SUPER convenient! 
As you can see, we have the button added.
But just because the button is in place in that row, it doesn't mean it's stuck there. We can just drag the module around as needed, including to the other row in that section – or create a new section altogether!
Divi Modules
Speaking of modules, Divi comes with 40+ quality website modules for your page building pleasure. However, like with Elementor, you can find custom third-party plugins if you need additional modules for Divi Builder as well!
In addition to the obvious ones like text and video, here's a brief list of some of the coolest modules that are included in Divi:
Testimonial
Social media follow
Slider
Pricing Tables
Contact Form
Call to action
Email Optin
For a website with a marketing or conversion focus, having these modules built-in is awesome! Keep in mind, every module that's right there from the beginning is another random WordPress plugin you don't have to hunt the web searching for.
Dynamic Content 
Another great feature of Divi is dynamic content. Similar to Elementor's dynamic elements, Divi's different module inputs can display dynamic information pulled from a database, which means it automatically updates itself when you change the connected content.
An example is the image module. You can connect the image source to the featured image in a post, right from the image module. When you change the featured image, the page will automatically update to display the new one. This also applies to pricing table modules, event dates, and more!
Divi Theme Builder
The Divi Theme Builder lets you structure your website and edit any part of the Divi Theme from page to page, such as your headers, footers, post templates, and more.
What can you do with it? 
One big benefit is custom headers and footers, allowing you to create unique elements that apply globally, plus custom headers for just specific pages of the site.
Or say you want to apply a custom design to all of your blog posts. You can create a template for posts using the Theme Builder and automatically update every single blog post at once. You can do the same with custom category pages for your posts.
Lastly, it's also possible to export or import entire theme builder packs, which are basically the same concept as Divi layout packs, but applied to an entire website structure!
Divi Theme With Elementor Plugin?
Okay, if you were wondering the same thing I was, the answer is yes – it is absolutely possible to use Elementor's plugin on a website with the Divi theme installed! Because I already own a website that uses Divi, I thought it'd be interesting to add the Elementor plugin on top of my Divi install and see what happens.
Based on this little experiment, I found out that if you were to install the Elementor plugin with the Divi theme, then anytime you create a new page, you basically get to choose which one you want to use as your page builder.
There's a wee little button in the top left called "Edit with Elementor" for building a page using Elementor, and then there's the main Divi builder you can select in the center of the page to go with Divi.
I shared this with you to show you how flexible WordPress can be with different plugins and tools, even combining multiple competing page builders.
However, this is FAR from the best practice for a WordPress website because of a few key reasons:
Page builders are not small plugins, so having two of them active on one WordPress install can compromise your site speed.
You're adding unnecessary complexity for building, maintaining, and expanding your site.
Backing up or migrating a WordPress website based on two completely different page builders is a recipe for confusion.
What it really should come down to is, which page builder do you like better? What's a better fit for your budget and your needs? 
If you're willing to pay, you ought to be comparing Divi to Elementor Pro. The free version of Elementor is great, but it greatly restricts some of the page templates and content modules you have access to. 
With that said, let's take a look at how these two page builders compare in terms of price.
Elementor vs Divi Pricing
Elementor Pricing
It's hard to beat free… And Elementor offers a totally free version of its page builder that includes everything you need to make a decent website. Most of the "extras" in the Pro versions are just that: extra.
Sure, it's handy to have global elements, premium widgets, and a theme builder, but you can get by without all of that if you just need something basic.
As for the paid versions, every level of Elementor Pro literally has the same exact features – the only difference is how many "licenses" you're getting. You'll either get access to Elementor Pro on 1 site, 3 sites, or 1,000 sites. (Yeah, I know… kind of a big jump!)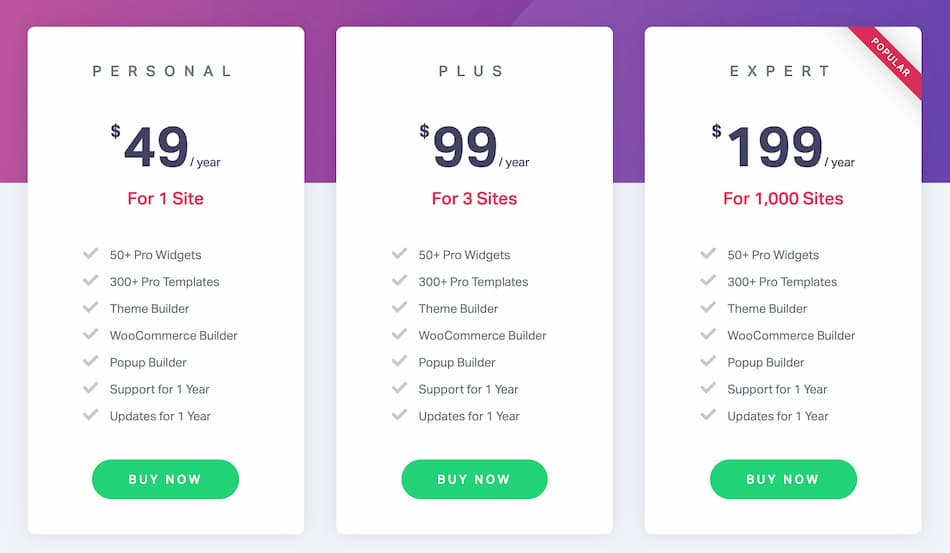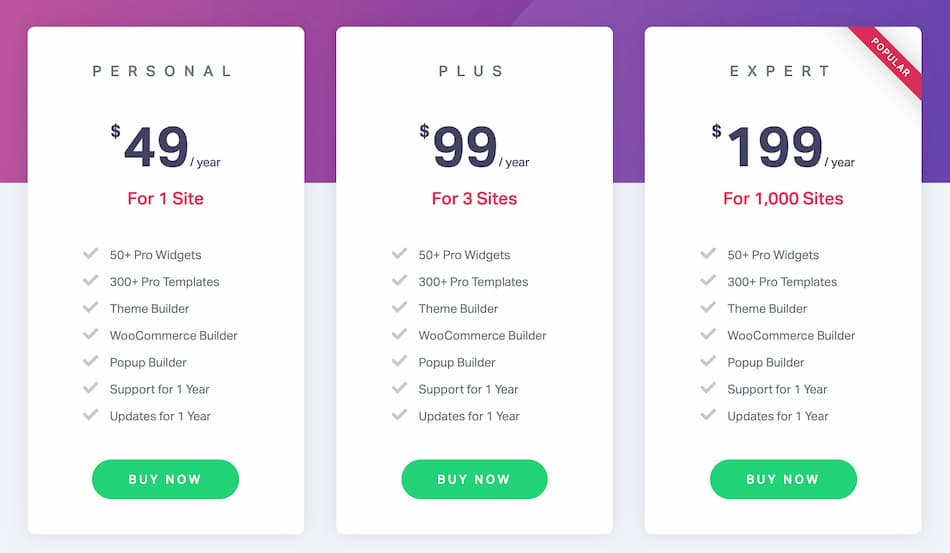 Divi Pricing
Divi has REALLY simple pricing. Either you pay for an annual subscription for $89, which grants you yearly access to the theme and plugin, or you buy a lifetime Divi membership for $249, which lets you use the theme and plugin on unlimited sites forever. This includes lifetime updates and support! 
Honestly, the lifetime membership is actually becoming a rarity in premium WordPress themes now. It's much more prevalent to do a subscription model, so this really is a worthwhile Divi feature. And it applies not just to the website you're working on right now, but any future website you plan on building. Pretty cool!
Pros and Cons of Elementor
Free is hard to argue with. Elementor's free version is so fully-featured that it easily competes with the paid versions of other page builders, even Divi's. You already have everything you need to make a website, and Elementor is a fantastic tool that just keeps getting better.
But it has its own drawbacks. In fact, pricing may be the biggest disadvantage with Elementor. Yes, the free version is great, but if you're serious about your online business, you'll be looking to upgrade before long. And especially if you intend to own several websites, Elementor's $199/yr plan doesn't hold a candle to Divi's unlimited lifetime access for a one-time payment of $249. 
In the end, the pricing advantage depends on which builder you like better and what plans you have for your business.
PROS
Free version lets you build a great-looking site… for FREE!
Pro version has fantastic added features, including a theme builder, premium widgets, dynamic content, and more
The Personal plan is a great value ($49/yr) for anyone who just needs Pro features for a single site
Speed and performance are fantastic for a visual page builder
Works with most WordPress themes
CONS
Customer support includes an email ticketing system or Facebook group, but has no live chat or phone options
The free version is missing some fundamental quality-of-life features found in Pro, especially global elements
A little less intuitive than Divi and may take a while to get used to
Pros and Cons of Divi
A HUGE plus to Divi is the fact that you can actually buy lifetime access to a popular premium theme. It's pretty pricey at $249, but it's one time and then you never have to worry about paying for a premium WordPress theme again. Even better, if you like the Divi page builder, either the annual and lifetime membership includes unlimited website usage.
Compare that to Elementor, which has you paying almost as much for the Expert plan at $199, but makes you pay for it every year.
Of course, Divi has its faults as well. One potential downside of Divi is that it relies on shortcodes rather than "clean code." This means it's more difficult to change themes down the road if you build your website in the Divi page builder.
Yes, it's possible to buy lifetime access to Divi, so this may not be an issue as long as you're happy with Divi for your websites – but you may not want to be locked into Divi in the event you change your mind.
PROS
Fantastic value – purchase a lifetime license and use Divi on unlimited websites
Includes both the premium theme and page builder plugin
Ease of use and customization is top-notch
Versatile enough for any niche with its theme and page builder
Includes a few additional premium plugins and themes, including Bloom and Extra
Compatible with third party service providers
Sophisticated features for dynamic website content
CONS
Switching from Divi could require manually removing shortcodes and redesigning your content layout
Divi may still present a learning curve for anyone new to page builders or WordPress
Performance may be a bit slow at times
Elementor vs Divi Wrap-up
So, what's the verdict here?
Hopefully you don't expect me to break the tie – I'm just here to show you how these two page builders stack up!
I also want to point something out: even though I've done my best to provide an up-to-date Elementor vs Divi comparison, the nature of this game is that WordPress themes get updated all the time. As things change, one might pull ahead over the other temporarily, but they're both always improving!
I think the most important point is that you won't go wrong with either one. They both have thriving communities, fantastic customer support, and are always seeing new features and content assets added. Your WordPress site is in good hands with either Divi or Elementor. 
Still not sure which one is right for you? Here's how I would break it down based on which factor you find most important.
Ease of Use
Ease of use comes down to personal preference more than anything.
I find Divi to be slightly easier to use, because it has a pop-up box that you can access to edit any elements directly on the page. The box is also easy to move around and resize as needed, as opposed to the fixed sidebar in Elementor.
You'll also find more templates and layouts with Divi than in any other page builder. I find this to be a big advantage – but at the same time, once you've picked one to base your website on, you may never need another one again. Ease of use is so subjective, but I can say this – both of them are WAY easier than coding the whole website from scratch!
Price
If your most important factor is price, I would probably lean toward Elementor.
You'll get a LOT of mileage out of the free version, which doesn't really hold back any of its primary page-building features.
One of the main differences with Elementor Pro is an additional 300+ content widgets and blocks to work with, such as social media widgets, conversion widgets, and search bars. 
It's nice to have these included, but you can always go find other plugins or workarounds if you need to. As for the other Pro features, like WooCommerce builder, contact forms, and integrations, you'll just have to decide if any of these are essential for your project.
It's possible you can get away with the free version of Elementor, but even the "personal" Elementor plan is just $49 per year, quite a bit cheaper than Divi's $89 annual plan – as long as you only need the page builder for a single website.
The only exception here is Divi's $249 lifetime access for unlimited websites. But unless you're 100% sure you want Divi on all of your sites moving forward and you'll be working on your project for at least three years, Elementor's free or Personal plans are a smarter way to go.
Functionality
Divi is probably the more complete package, although it's very close. Keep in mind that Divi has been around since 2013, so it's had more time to make a fully-featured page builder and theme.
You get access to more layouts and templates with Divi, but in terms of overall features, it's kind of a toss-up – and it's always changing. The release of Divi 4.0 pushed the scale back in Divi's direction, but Elementor is doing its thing too, and doing it very well. 
Honestly, both page builders have so many features and elements now that it can be pretty overwhelming when you're still new to them. But trust me, pretty much anything you need to do is either possible natively or through expand-ability from other element add-ons or WordPress plugins.
Pick Your Page Builder
Well, that's all I have for you on Elementor vs Divi! I hope this ultimate showdown helped you get to know them, and will help you decide between two of the most robust page builders on the market.
Now, it's the moment of truth. Which one is right for you?
OR
Try Divi with 30-Day Guarantee!
If you have questions or feedback on Elementor vs Divi to share, let us know in the comments!
Date Published 2019-10-22 2:27